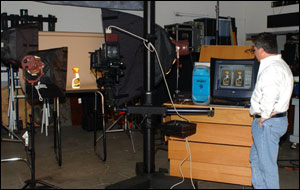 R
ichardson photography specializes in providing the highest quality digital studio and location photography for all media uses. Our digital workflow will provide you with the highest quality images. Utilizing our system of digital imaging, client and/or designer have the opportunity to participate and see virtually instantly the results of our efforts. Digital images appear in PhotoShop on a high resolution, color-calibrated monitor for review and critique. Eliminating the poor quality polaroids and waiting hours or days for final film processing. You will leave with the satisfaction of knowing exactly what you have captured. Your files will be transferred to a CD and a high quality dye sub proof on request for reference.
Digital photography thus eliminates many of the time consuming steps you are used to in conventional photography. While at the same time providing you with greater color rendition and detail.
In studio or on location, large project or small, our final goal is complete and total customer satisfaction.
Call us at 310.328.8411 or
e-mail us
with the specifics of your project for a price quote.